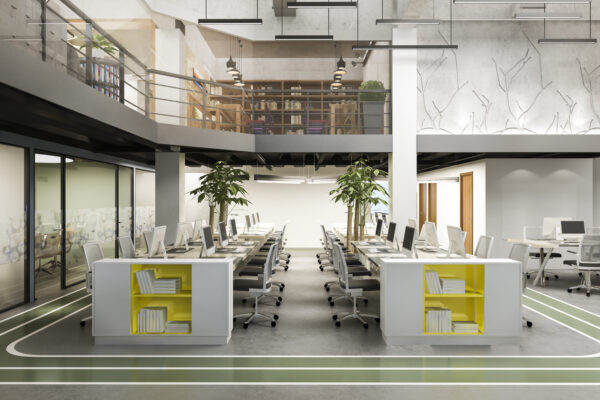 Innovation and Design For Your Workplace
We are an award winning company, providing office interior services and space solutions to companies that want to be future ready. We provide workspace backed by science and technology with a variety of options for any sized office space. Looking for affordable office interiors with quality office interiors? Our team is here for you.
How office interiors impact employees' work performance and a company's success?
In the last 20 years, the modern office has evolved a lot. The early 2000s saw the death of cubicle forms and the rise of open floor plans, and 2015 brought waves of ping pong and foosball tables to offices everywhere. However, one thing that does not change is how much impact the office environment has on employee health and wellbeing. This is why employers need to take into consideration what their employees are experiencing in the office because it influences their wellbeing. 
A comfortable working environment leads to a less stressed and more productive employee. To create the best office spaces, employers should take into consideration the physical surroundings of their employees.
Here are some interesting facts to know
For a healthier work life, the majority of workers would like their employer to offer wellness benefits such as wellness rooms, fitness benefits and sitting-stands.

Younger companies are more likely to offer in-office benefits like sit-stand desks to their employees, than established companies.

93% of workers in the tech industry said they would stay longer at a company that offers healthier workplace benefits. Options available range from bodyweight and cardio exercise classes, to lunch time healthy choices and ergonomic seating.
In order to find and retain top talent, companies need to offer environments that are comfortable and utilise the best possible space for work. With MOHH, it's possible to create an environment in your office that is enjoyable for all employees. MOHH uses design to promote happiness and productivity in your office.
Here are the latest office interior design tips curated by Mohh
With the various factors to consider when designing an office space, it becomes quite difficult to find a balance. For example, there is the need for an aesthetic appeal as well as functionality. To create an inviting environment, the space should also establish and portray what the organisation wants to communicate its values. 
Reception and desk Lobby
The front desk is important for creating a good first impression. Walls should be light and airy, in complementary colours with the company logo or achievements. Light should be natural, or fluorescent lights avoided. Spots provide better lighting than fluorescent bulbs. Plants create a relaxing environment. Looking for classic office design services? Our team is here.
Office Layout 
Quality office interiors should have an open layout because closed off cubicles consume a lot of space and prevent employees from communicating with one another. Companies are using modernised furniture such as Adaptable Desks to promote creativity and freedom within their office space. Creative thinking areas with pleasant colour schemes like wood or earth tone can create a more natural environment for team members. Complement your facilities with communal areas and make it clear you support productivity by dedicating space to company achievements and company culture.
Furniture
You should choose office furniture that matches your decor. Furniture with adequate storage will spruce up your floor or office space. Ergonomic considerations are also key to avoiding health issues – make sure you adjust the height and use furniture that provides cushioning. Avoid overly glossy furniture, since it can cause eye strain. For affordable office interiors, furniture plays a vital role. 
Lighting
The quality of light in the workplace must be carefully considered. Dim lights make it more difficult to focus on the computer or mobile screen, and bright lights have a similar effect. 
Overhead lights should be used in conjunction with other types of light, like corrective and ambient. Corrective lighting reduces eye strain. Ambient lighting has more to do with the environment than the actual task being done.
With a task light, employees can use a spotlight to get additional light for those late nights. Make sure to use lots of natural lighting. If you have a workstation close to a window, add window tints to minimise glare off the computer screens.
Colour Schemes
When choosing a colour for a workspace, think about the type of work done and the atmosphere needed. Though there is debate on this subject, colours do have a psychological impact on us. Once should include blue in the colour scheme, if most projects in the workplace depend on teamwork. 
Blue helps to foster trust amongst employees and also creates an environment that is calm.
Green environment boosts creativity, creates a harmonious space
Offices with high energy and enthusiasm will benefit from using yellow or orange as their colours.
Combining white and natural light can be conducive to creativity, while also making a space appear large. White can also increase focus.
Don't just use one colour. Team it with a neutral shade to create the perfect impact. With paint, glossiness is important so be sure not to go too shiny.
Dos and Don'ts Of Office Interiors
Avoid Excessively Bright Lights In The Office
When working with lighting, ensure that it is neither too dim nor too bright. This may include some ambient lights, overhead lights, and task lights if needed.
Avoid Dark Colours In The Lobby
Use light-toned colours in the lobby and reception area to create a space of illusion, and to make the atmosphere less overwhelming.
Choose flexible workspace layouts
Consider the long-term when choosing your furniture, rather than focusing on style and beauty. You want to choose furniture that is easy to alter in the future, without much monetary input.
Use furniture that increases space
To avoid clutter on the office floor, desk and other surfaces, start with furniture that's storage-friendly. Custom-made items are a good way to go.
Connect with our experts today for best office interior services.